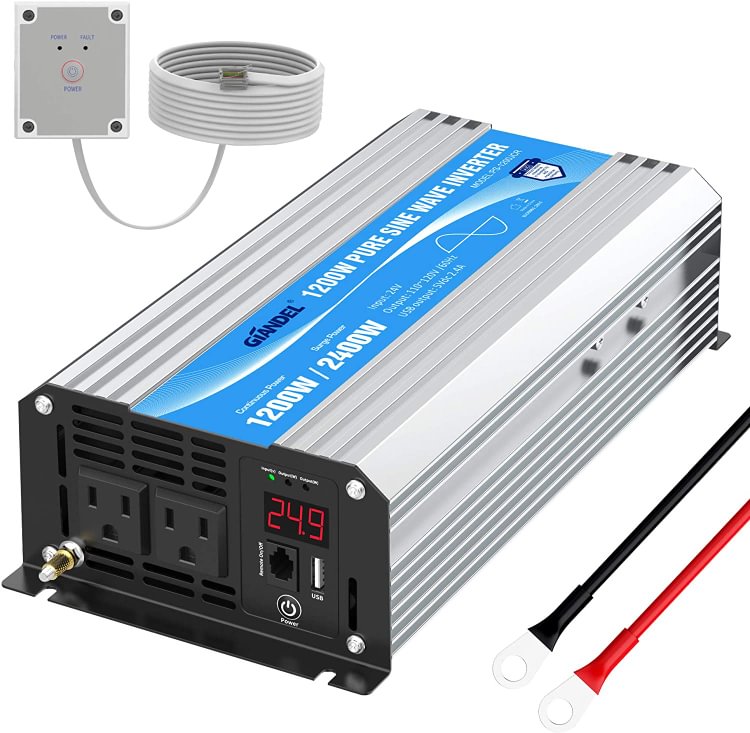 About this item
24V Pure Sine Wave Inverter:true rated continuous 1200Watts 24V pure sine wave output power ,more powerful than 1000Watt inverter ,DC 24 V input,featuring 2 AC outlets and 2.1A USB port,with battery Cables

Widely Applications:the dual 110V 120v AC outlets Provides 1200 watts continuous power for most of appliances like fans,fridge,freezer,Laptop,air compressor,medical device etc

Multi-Protections:Over voltage,Low voltage,Overload,Short circuit,Over heat,polarity reverse protection(fuse) and ,Soft start tech,Auto-restart function.THD<3%. With LED display to show the protection modes , battery voltage and output power.

With Remte Controller: Easy to control the inverter ON/OFF with a 15 feet cable. And LED display, easy to see the input voltage and output power.

Strong and Durable aluminum alloy housing provides advanced protection from drops and bumps. Intelligent cooling fan helps reduce heat and prevents shortages. 18-Month Warranty
Specifications:
• Power (2 AC Outlets): 24V 1200W Rated, 2400W peak
• Max Efficiency 91% • THD ≤3%
• USB output: 1xDC 5V/2.4A(max)
• Wave form: Pure sine wave
• Input voltage: 24V(19-32VDC)
• Output voltage: 110-120VAC
• Internal fuses: 30A
• Battery cables(6AWG): one pair with length of 2 ft.
• Remote controller: remote controller with 15ft cable. More convenient to control the inverter ON/OFF
• No load current: 0.5A
Fully safety protections:
• Input over-voltage shutdown: 32VDC±0.5V
• Input low-voltage shutdown: 19VDC±0.5V
• Input low-voltage alarm: 19.6VDC±0.3V
• Over-heat protection: 65±5℃
• Over-load protection: 1300W
More details and tips:
• Recommended Battery Capacity: 100Ah.
• Connect the inverter to a 24V battery with the standard cables provided with product, and plug your AC devices into the inverter.
• Please do not leave the power inverter in the ON position while your car is off.
• Disconnect the positive battery terminal before doing any wiring to the inverter.
• Do not put the inverter into sunlight directly, keep it in cool and dry environment.
• Don't use the inverter with a product that draws a higher wattage the inverter can provide, as this may cause damage to the inverter and product.
Package List:
• 1x 1200W 24V Sine Wave Power Inverter
• 2x Battery Cables
• 1x Remote Controller with 15 ft Cable
• 1x Manual 8x Shockproof Pads. 1x Shockproof Pads Manual