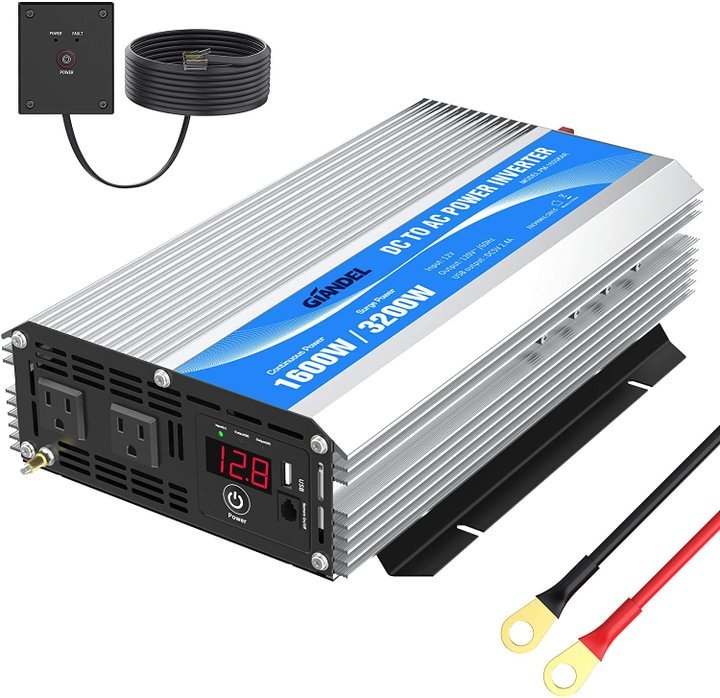 Used products,Small cosmetic imperfection on top, front or sides of item. Item will come in original packaging.【1 Years Warranty】【Free Shipping】

About this item
This product can only be shipped in the United States, because we don't support cross regional shipments.

▶ GIANDEL 1600 WATT POWER INVERTER◀ Provides continuous 1600 W DC to AC power, featuring 2 AC outlets and 2.4A USB port for multi-purpose charging, more powerful than 1500Watt Power Inverter.

▶ MULTI OUTLETS◀ Equipped with 2 pcs of 120Volt AC output and 2.4A USB port,ideal for powering appliances under 1600Watt like TV, Heater, fans, DVD players, lights, washing machine and other electronics applainces.

▶FULL PROTECTIONS◀This 1600W power inverter has multi protections: over voltage, overload, over-current, under-voltage, overheating, short circuit protection.The LED display indicates HI, OL or OH if under protections.

▶MORE CONVENIENT◀ Remote Controller: controls the inverter on /off with 15 foot far away. Smart cooling fan: the built-in high speed cooling fan only starts working when temperature is over 104℉.

▶ WHAT YOU GET◀ 1x 1600W Power Inverter, 1x free Remote Controller, 2xBattery Cables, 1xUser Manual, one remote controller with 15ft cable. Our AIG covers the product liability.12-month warranty and friendly customer service.
Specifications:
Output wave: Modified Sine Wave

Size:1600W Inverter

Power (2 AC Outlets)

Overload protection 1601-1800 Watt (Loads do not exceed 1600 Watt)

No load current: Max 1 amp

Max Efficiency 90%

With LED display USB output: 1xDC 5V/2.4A(max)

Nominal input voltage:9.8-16VDC

Nominal output voltage: 110-120VAC

Internal fuses:30A

Battery cables:one pair with length of 2 ft

Remote controller: remote controller with 15ft cable. More convenient to control the inverter ON/OFF

This is a modified sine wave inverter,ONLY TRUE RMS

meter can test the AC output voltage correctly.
More details and tips:
Connect the inverter to a 12V battery with the standard cables provided with product, and plug your AC devices into the inverter .

Please do not leave the power inverter in the ON position while your car is off.

Disconnect the positive battery terminal before doing any wiring to the inverter .

Do not put the inverter into sunlight directly, keep it in cool and dry environment .

Don't use the inverter with a product that draws a higher wattage the inverter can provide,as this may cause damage to the inverter and product
Package List:
1x 1600W Power Inverter

2x Battery Cables

1xRemote Controller with 15 ft Cable

1xUser Manual 8xshockproof pads

Shockproof pads Manual